February 12, 2020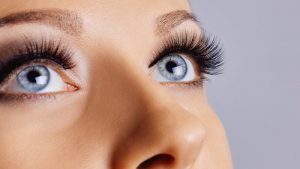 The process of receiving eyelash extensions in Tysons Corner is an investment in time and money. To achieve a more luxurious look and make your eyes stand out among the crowd, you need to be committed to the process. But how can you possibly stretch out the length of time between appointments? Let a local beauty expert provide some helpful tips to keep your eyelashes lasting longer while maintaining your appearance.
Avoid Sleeping on Your Stomach
Are you a stomach sleeper? If so, you'll need to get used to sleeping on your back…at least for a few days. The reason is that when the initial placement of your eyelash extensions occurs, the glue that holds them in place needs several days to officially set. As a result, sleeping on your stomach and pressing your face into a pillow could cause them to loosen or fall out, resulting in another visit to see your beauty specialist.
Be Careful While Cleaning
If choosing to wear eye makeup in combination with your lashes, you will need to remove your liner and shadow before going to bed. To do this, it will require a careful hand. Instead of rubbing away the makeup, opt for oil-free cleansing wipes or cotton balls. These will allow you to gently remove anything around or on your eye without cause your eyelashes to become loose.
Choose Oil-Free Products
When combining the glue that holds your eyelash extensions on with oil-based products, you will quickly find it to be a recipe for disaster. If at all possible, avoid any cleanser or facial product that contains oil, as this will ensure your extensions remain in place and do not fall out.
Say No to Mascara
Do you struggle to put mascara on without it looking clumpy? If this is a problem with your regular lashes, expect the same with extensions. Your new and improved lashes will be beautiful and feathery, so skip the messy bottle of mascara and instead, rely on other forms of eye makeup, such as eyeshadow and eyeliner, to use in combination with your extensions.
Get Rid of the Eyelash Curler
While this simple tool may work wonders for your natural eyelashes, using one with extensions will only cause them to break and become weak. When receiving lash extensions in Tysons Corner, you and your beauty expert will discuss style and shape, so if you want more of a curl, you can certainly request it.
By following these tips, you will be able to take better care of your eyelash extensions and enjoy a more aesthetically pleasing appearance for longer. If you're unsure about a particular product, don't hesitate to contact your beauty expert for help.
About the Author
Lizeth Alvarado attended George Mason University to pursue Communication, but when she wasn't studying, she was booking jobs at fashion shows and working as a freelance style consultant. As the lead beauty expert, she can improve your look in no time at all. Want longer lashes? She will be happy to assist by providing various methods of eyelash extensions to give your eyes that beautiful, luxurious look. If you want to find out how you can achieve a refreshed, revitalized look, or if you have questions about our services, visit our website or call (202) 550-8981 to make an appointment.
Comments Off

on How to Extend the Longevity of Your Eyelash Extensions
No Comments
No comments yet.
RSS feed for comments on this post.
Sorry, the comment form is closed at this time.