Bridal Makeup & Hair - Tysons, VA
Look Your Very Best on Your Big Day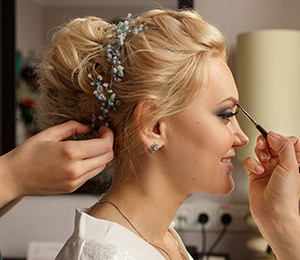 There's so much to worry about when planning a wedding, from the food to the venue to the bridal party to the place settings. As one of the most important days in a person's life, it's understandable that our brides demand perfection, especially when it comes to aspects that will be immortalized forever in a wedding video and photobook. If you want to go above and beyond when it comes to your makeup and hair styling needs on the big day, look no further than Epic Beauty Rx.
Lizeth Alvarado's experience in beauty spans well over a decade, and her repertoire of looks will be sure to suit your wedding's style for the bride, the bridesmaids, and anyone else in need of a stunning appearance. Better yet, she can either transform your party here in her McLean, VA location or bring a highly talented team to you, whether the big event's taking place in the DC area, Virginia, or Maryland! Contact us today for more information.
Why Choose Epic Beauty Rx for Bridal Makeup & Hair?
In addition to our experience and travel availability, we always take the time to create a truly tailor-made experience for each bride in need. Staying up-to-date with the latest trends is important to us, and that attention to detail will benefit your one-of-a-kind personality and desired bridal look. Are you interested in classic makeup and hair? Does your fairytale wedding need some romantic glamour? Are you wanting to go all the way with a wonderfully dramatic look? Our team will always make it happen. We also ensure that any makeup and hair styling services we provide will last throughout the entire wedding day, with only minimum touch-ups required.
Keep reading below to learn more about the services we offer:
Bridal Trial
We strongly recommend that prospective brides schedule a bridal trial at least one month prior to the big day. During this one-on-one session, we will discuss your desired look and the makeup and hair styling options available. We can also discuss travel fees if you want our team to be on-site for the big day.
Prices for this appointment are:
Bridal Trial Hairstyle
$100
Trial Makeup & Hair
$165 each
(two or more people)
Bride on Wedding Day
We can't wait to assist you on your wedding day! Lizeth and her team will do everything they can to make the styling experience as smooth, enjoyable, and stress-free as possible – after all, you surely have enough to worry about already.
If only the bride is receiving our makeup and hairstyling services, prices are as follows:
Hairstyling for Bride
$200
Bridal Party
When the entire bridal party undergoes the same styling from Epic Beauty Rx, it can make your wedding photos and videos even more beautiful! Please see below for comprehensive prices:
Makeup for Bridal Party
$100
per person
Hairstyles for Bridal Party
$125
per person
Hair and Makeup for Flower Girl
$50 each
(7 or younger)
Hair and Makeup for Men
$35
per person
Are you interested in having our team nearby in case touchups or minor fixes are necessary? Every additional hour past the original styling will be $290. We look forward to making the happiest day of your life even more amazing through our dedicated, personalized services.