Permanent Makeup - Tysons, VA
Look Your Best While Saving Time & Money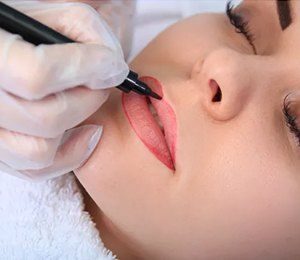 Is Your Makeup Smearing Off During the Day?
ARE YOU TIRED OF DRAWING IN YOUR EYEBROWS? Are They Even? Are You Using the Right Eyebrow Color Pencil? Is Your MakeUp Smearing Off in the Middle of the Day? Permanent Makeup is the Solution to Save Time and Give You Peace of Mind in Having Perfect MakeUp 24/7 Everyday.
THE PROBLEM IS Women are Busier than Ever and are Either Neglecting Themselves or May Not Feel Like their Most Beautiful Version. Epic Beauty Helps You Look Glamourous 24/7, so You Put Your Best Face Forward, With Confidence!
FEEL AT EASE WITH EXPERT, LIZETH ALVARADO, MASTER PERMANENT MAKE UP ARTIST: Yes, there is a such thing as holding a Masters in Permanent Make Up Artistry. Lizeth is Licensed for both Beauty Permanent Makeup and Medical Permanent Cosmetic Procedures for Breast Cancer Survivors.
At Epic Beauty Rx, you can look forward to having your permanent makeup needs handled by a true professional, Lizeth Alvarado, who often recommends this type of treatment for clients who not only want the added convenience, but also struggle with allergies to common makeup brands, arthritis or similar conditions that make it difficult to apply makeup properly, or patients who have recently undergone chemotherapy and lost hair because of it. Please contact our location in McLean, VA today to schedule a consultation. We are happy to serve the greater Washington DC area and Northern Virginia!
BENEFITS OF PERMANENT MAKEUP - Did you know that if you are spending just 10 minutes a day putting on Mascara, Drawing in Eyebrows and Eyeliner Add Up to 5 Hours per Month? Get Your Time Back With Permanent Make Up Treatments at Epic Beauty.
SAVE TIME & FEEL CONFIDENT- Permanent makeup alleviates the everyday frustration of applying it and then worrying about it wearing off during the day. This process is completed through micropigmentation, during which permanent ink is implanted into the skin much like a tattoo.
PERMANENT MAKEUP PROCESS ON YOUR APPOINTMENT DAY- Please be ready for a 2.5 hour appointment. During our first hour together, we will discuss your desired shape and look. Lizeth will then map out your eyebrow with a pencil, combine the perfect ink colors for your skin type and tone, and then numb the treatment area for up to 25 minutes. During the second hour, your treatment will start by using a digital pen that gently implants the pigment into your skin. You will lay very relaxed in a comfortable serene environment, and soon after looking in the mirror with your beautiful looking permanent makeup. Now you will Wake Up With Makeup.
What's Hot? - Eyebrows!
Microblading & Ombre' Brows Are In!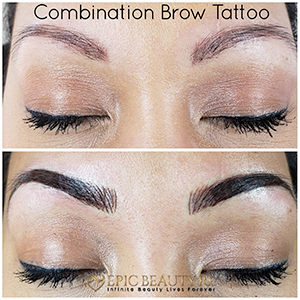 Eyebrows are one of the primary features that defines the unique personality of a person's face. In fact, studies have suggested that eyebrows are just as much of an identifying factor as the eyes themselves! If your eyebrows are too light in color, uneven, or nearly non-existent, permanent makeup may be the right solution.
Lizeth uses microblading to create gorgeous, natural-looking improvements for her patients, which involves a special pen that creates individual strokes of "hair" one by one. With the proper maintenance, the results should last for up to 1 year before requiring touch-ups! Here is our price:
Microblading Eyebrow Tattoo: $495-$650 (consultation is required to determine exact price - varies for each individual) Three-dimensional microblading and corrective coloring is included.
Ombre brows are another modern technique for clients who'd prefer a fuller, more colored result than what microblading can provide. The tails of the brow will be darker and fade into a lighter shade. It will look very similar to what a powder brow, eyebrow pencil or shadow could accomplish – without any of the work! The final results are completely waterproof and smudgeproof too, which means you can shower, sweat, and even swim.
Get Your 'WOW Brows!' Perfect. Beautiful. Natural.
Face Make-up
Whether you're interested in lash lines to improve your eye lift, beautiful shading on your lips, or a full face of permanent makeup that's always ready to go when you are, Lizeth looks forward to bringing your style goals to life. Here are our available services and their prices:
Permanent Make-Up
Most women waste a ton of time trying to do their makeup in the morning. Epic Beauty gives the best Permanent Makeup treatments, to save time and look your best 24/7.
---
Permanent Lash Line
$395
Lizeth will create a tight line above the eyelid. This will result in the appearance of an eye lift.
Permanent Eye Liner
$495
This treatment only includes the top lid.
Permanent Lash Line & Eyeliner
$595
Tight liner in between the lash line blended with eyeliner above creates a complete look.
Permanent Lip Liner
$595
Lizeth will create a lip line that's personalized to perfection.
Permanent Shading of Full Lips
$695
This service includes lip liner and full shading for the lips.
Permanent Full Face Makeup
$1600
This treatment plan covers all of the beauty bases, including microblading for the eyebrows, top eyeliner, lip liner, and full lip shading.
Permanent Eyeliner Upper & Lower
$695
If you are interested in both of the above services, this is a valuable deal.
Permanent Makeup Removal
Price determined at consultation.
Specializing in permanent makeup removal of botched eyebrow tattoos. Consultation required to review if you are a good candidate.