October 7, 2019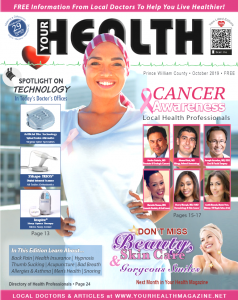 It's not every day that you land on the cover of a magazine. But for Lizeth Alvarado, who is a master permanent makeup and cosmetic tattoo artist with Epic Beauty Center, her ability to provide 3D nipple tattooing for breast cancer survivors saw her gracing the cover of Your Health Magazine in celebration of Breast Cancer Awareness Month! Learn more about Lizeth and how she's changing lives with her skilled and artistic hand.
Who is Lizeth Alvarado?
Lizeth Alvarado is a beauty stylist and master permanent makeup artist who has an artistic ability to provide her clients with a wide array of services, including:
3D Nipple and Areola Tattooing
Eyelash Extensions
Permanent Makeup
Scar Camouflage
Scalp Micropigmentation
Body & Facial Waxing
Makeup Application
Bridal Makeup & Hair
Passionate about beauty, women's fashion, and helping others from a young age, she attended George Mason University to earn a degree in Communication; however, her love of styling never ceased. After graduation, she went on to pursue a career in finance while completing technical school and earning her certifications as an eyelash extension stylist and permanent make up artist.
Since opening Epic Beauty Center, she has incorporated a new level of artistry by offering 3D areola and nipple tattooing.
What is 3D Nipple Tattooing?
This type of artistic skill is designed to create a 3D illusion that restores the areola and nipple of an individual's breast. After undergoing a mastectomy, the nipple can be lost; however, this beneficial technique can restore the look of the nipple without unnecessary surgery.
Using pigmented ink and shading techniques, Lizeth applies the image to the mound. Although it will look as if it is protruding, the image will lay flat, eliminating the worry of anything showing through your clothes.
Why Is It Important to Breast Cancer Survivors?
Individuals who are diagnosed and survive breast cancer go through a range of emotions, all of which can result in loss of self-esteem, especially if a mastectomy is required. Not only can this change in physical appearance be devastating to a woman, but it can negatively impact how she sees herself.
By providing services such as 3D nipple and areola tattooing, these women can regain their confidence. While reconstructive surgery can help, scars are left behind to serve as reminders. Fortunately, with nipple tattooing, it not only reduces and camouflages scarring, but it also creates a beautiful, complete look desired by women who have beat the odds.
As we celebrate Breast Cancer Awareness Month, let us not only congratulate Lizeth for her commitment to helping others but also encourage those individuals who have overcome breast cancer and desire a new lease on life. If you or someone you know are interested in learning more about 3D nipple tattooing, have them contact Lizeth at Epic Beauty Center.
About the Author
Lizeth Alvarado attended George Mason University to pursue Communication, but when she wasn't studying, she was booking jobs at fashion shows and working as a freelance style consultant. As the lead beauty expert, Lizeth has been helping breast cancer survivors feel greater confidence after mastectomy surgery thanks to her 3D Areola and Nipple Tattooing service. To learn more, visit our website or call (202) 550-8981 to make an appointment.
Comments Off

on Congratulations to Lizeth Alvarado for Making the Cover of Your Health Magazine!
No Comments
No comments yet.
RSS feed for comments on this post.
Sorry, the comment form is closed at this time.