September 1, 2019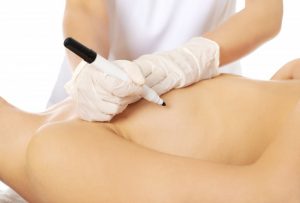 It's highly likely that you know someone who has or is currently battling breast cancer. This horrible disease causes emotional and physical scars that can leave an individual feeling less confident in their appearance. From hair loss due to chemotherapy to losing one's breast as a result of a mastectomy, no one can understand the impact this can have until they've experienced it themselves. Fortunately, there is a solution that is empowering individuals by giving them back their confidence. Find out how a 3D areola tattoo is making it possible for breast cancer survivors to move forward after a mastectomy.
What is 3D Areola and Nipple Tattooing?
Performed by a skilled tattoo specialist, 3D areola and nipple tattooing is a revolutionary service offered to individuals who want to improve the appearance of their breasts after having surgery. Some of the following are reasons why someone would have a 3D nipple tattoo:
Breast Reduction
Mastectomy Surgery
Not only does it create the illusion that you have a lifelike areola and nipple, but it also:
Creates proportional breasts
Minimizes scar appearance
Restores color and shape to fading areolas or nipples
How Can it Benefit Breast Cancer Survivors?
It's not necessarily just cancer that can be traumatic but having a mastectomy to remove the breast(s) can be equally as impactful. To combat this feeling of decreased confidence, a mastectomy nipple tattoo can empower and encourage both men and women to embrace a new way of living, feeling confident about their health and appearance.
There are many benefits to having 3D areola and nipple tattooing, including:
Minimal pain experienced
Increased confidence
Professional application by a skilled tattoo specialist
No recovery time or downtime required
Reduces the appearance of scarring from a breast reduction
How Is It Different Than Traditional Nipple Reconstruction?
More and more breast cancer survivors are choosing the tattooing option over nipple reconstruction for a variety of reason. With the latter, patients can experience:
Extensive healing
Increased risk of infection
Protruding nipples that can be seen through all types of clothing
For someone who has battled and won the fight against breast cancer, that is an accomplishment in itself that should make anyone feel proud and confident in their ability to push through even the hardest times. But by offering services such as 3D areola and nipple tattooing, it gives these survivors a boost in confidence that wasn't there before.
About the Author
Lizeth Alvarado attended George Mason University to pursue Communication, but when she wasn't studying, she was booking jobs at fashion shows and working as a freelance style consultant. As the lead beauty expert, Lizeth has been helping breast cancer survivors feel greater confidence after mastectomy surgery thanks to her 3D Areola and Nipple Tattooing service. For individuals who have experienced this battle, or for people who want breast reduction tattoos, this service can provide a new lease on life. To learn more, visit our website or call (202) 550-8981 to make an appointment.
Comments Off

on Empowerment: How 3D Areola Tattooing is Helping Breast Cancer Survivors
No Comments
No comments yet.
RSS feed for comments on this post.
Sorry, the comment form is closed at this time.