March 28, 2019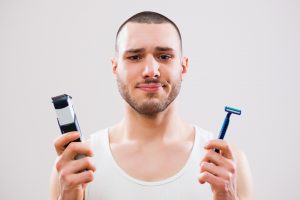 Smooth skin is not just for women anymore. Now, men from all walks of life are turning to the benefits of manscaping in Tysons Corner. Although it is not widely discussed, more men are choosing a Manzilian to get smooth bodies. While you have probably seen the painful procedure featured in movies, the discomfort is often extremely exaggerated. Some may feel a very slight discomfort but not to the extent you might expect, especially if you take the time to prepare yourself for your appointment. In fact, many clients say waxing is virtually painless thanks to new specialized waxes.

Smooth Skin with Manscaping
Often, when you think about manscaping, areas below the belt come to mind, but that is not the only place on your body you can treat. Believe it or not, waxing can also be used to tame your facial, back, shoulder, abdomen, leg, and feet hair. Now, a Manzilian, also known as Boyzilian, is rising in popularity. It involves removing the hair from the crotch area. This hot trend is not just for athletes. Men everywhere are turning to it for a sleek appearance.
Manzilian: What You Need to Know
If it is your first time having a Manzilian in Tysons Corner, it is normal to be a bit apprehensive. To help ease your anxieties, it is best to head into your treatment well prepared. Here is what you need to know to ensure your first time is as comfortable and stress-free as possible:
Prepare: It is best to take a shower before your session. It is a good idea to do a little trimming, but do not cut the hair too short because the wax will not have anything to hold on to.
There Will Be Pain: You will experience pain but probably not to the extent you are imagining. In fact, many men say it is more painful to wax their neck than the groin area.
You Will Be Touched: Your esthetician will need to touch your penis and testicles. She will show you the utmost respect and uphold your integrity throughout the process.
Numbing Cream: There are numbing creams available to minimize discomfort.
Wear Loose Clothing: It is best to wear loose clothing for a day or two after your treatment to help reduce ingrown hairs.
Use Baby Powder: It may take time to get used to your new smooth body. Applying baby powder to the area during the day or hot temperatures to help ensure a frictionless experience.
Enjoy Smooth Skin Today!
You can say "good-bye" to razors and home wax kits with a professional Manzilian from your trusted esthetician. Enjoy smoother, sleeker skin today.
About Epic Beauty

Our wax technicians strive to help everyone look and feel their best through tailored treatment plans. You will enjoy a variety of services at Epic Beauty, including male and female waxing solutions. Our team is qualified and trained to provide a comfortable experience while treating you with the utmost respect. Contact our office today to schedule an appointment for a Manzilian.
Comments Off

on Manscaping in Tysons Corner: What is a Manzilian?
No Comments
No comments yet.
RSS feed for comments on this post.
Sorry, the comment form is closed at this time.