February 3, 2019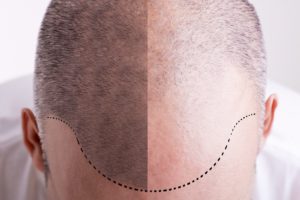 If you have a freshly-shaved head or suffer from hair loss, you may feel self-conscious about variations in your hair's appearance. You can improve your look using a virtually pain-free treatment. Scalp Micropigmentation in Fairfax adds color to your scalp to replicate the appearance of hair follicles to create a natural-looking hairline shape. The permanent treatment gives you the results you want to invest in your self-esteem.

What is Scalp Micropigmentation?
Scalp Micropigmentation (SMP) is a cosmetic pigmentation method that uses highly advanced techniques. Although it is often thought to be the same as traditional tattooing, there are clear differences. SMP uses highly specialized methods and equipment to inject pigmentation into the scalp. The intricate procedure can be used for both men and women.
Often, it is thought to only be a treatment for those who have a freshly-shaven head. Although it can help those in this situation, it can also aid those who have unique needs, such as:
Male pattern baldness.
Women's hair loss.
Improve density.
Hide scars.
Along with hair transplants.
Repair previous treatments.
Benefits of Scalp Micropigmentation
Many patients have come to prefer Scalp Micropigmentation over other treatments because it is noninvasive and virtually painless. Although wigs can help to hide the issues that cause you to feel insecure, there is quite a bit of maintenance involved and they can be expensive. You could also choose hair transplant procedures, but you may be left with unsightly scars. Scalp Micropigmentation will give you the results you want while eliminating the disadvantages of other treatments. It is also affordable when compared to other options.
What Can I Expect?
Ink is implanted into specific areas on your scalp that matches the color of your natural hair. It is done in a manner to create a three-dimensional appearance.
Generally, you can expect the process to take 2 to 3 sessions. First, you must schedule a consultation to ensure the treatment is right for you. This also allows your SMP specialist to create the customized treatment plan you need to achieve natural-looking results. The treatment offers a range of options to achieve your desired look, such as:
Soft hairline and widowed peak.
Add density to thinning hair.
Permanent edge up.
Make hair appear thicker
Covering scars.
Your transformation begins by laying out the foundation for your new look. At the end of the session, your scalp may be a bit red, but it usually dissipates within a day or two. Your second session consists of filling in the detail and shading areas of your scalp to put the final touches to leave you with flawless results.
Invest in Your Confidence Today!
Scalp Micropigmentation is a simple and effective solution to invest in your confidence.
About Lizeth Alvarado
Lizeth Alvarado provides a variety of aesthetic treatments to help you look and feel your best. She is dedicated and passionate about her patients to give them the high-quality care and attention they deserve. If you are interested in Scalp Micropigmentation, contact Epic Beauty today to schedule your consultation.
Comments Off

on Is Scalp Micropigmentation in Fairfax Right for Me?
No Comments
No comments yet.
RSS feed for comments on this post.
Sorry, the comment form is closed at this time.