October 3, 2018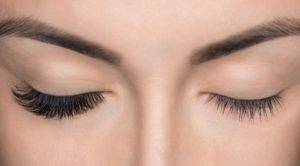 Recently, eyelash extensions have become all the rage to give you luscious lashes like many top celebrities.  The artificial lashes have gained in popularity as an alternative to the ones you buy at your local store. Now, they are even more popular than mascara, which dropped in sales by 4% in the last 3 years. Although they appear to be the ideal solution to give you the stunning eyes you have always wanted, are they safe? If they are not done by a qualified stylist in Tyson's Corner, they can have damaging consequences.

Are Eyelash Extensions Safe?
Eyelash extensions are semi-permanent artificial lashes applied by hand. A lash technician glues the individual extensions on top of your natural ones. With the right care, they can last for several weeks, allowing you to wake up in the morning ready for the day. There is no longer a need for DIY fake lashes, a curler, or even mascara.
Unfortunately, not all lashes are created equally. There are three types of eyelash extensions: synthetic, silk, and mink. Synthetic lashes are generally the most affordable; however, they do not look natural when low-quality products are used. Silk and mink provide more natural-looking results, but if you have animal allergies, you may want to avoid mink.
No matter the type you choose, they are safe when they are done correctly. If you choose an unqualified technician who uses cheap materials, there can be serious consequences. Among the biggest danger is the glue. If it is not applied properly, it can lead to irritation, infection, and allergic reaction.  In addition to the glue, the American Academy of Ophthalmology (AAO) warns of:
Infection of the cornea.
Infection of the eyelid.
Swollen eyelids.
Temporary or permanent loss of the eyelashes.
Damage to your lash follicles.
Although there are risks, do not let that deter you from getting the stunning lashes you crave. With the right stylist by your side, you can safely transform your eyes.
How Can I Find a Qualified Stylist?
The right technician will not apply just any lashes. They are specially trained to choose the best type to meet your needs by evaluating your natural lashes, such as if they are brittle, strong, or weak. By knowing your lash type and taking the shape of your eyes into consideration, they will pick the best product and cut to meet your needs. A properly trained stylist will transform your lashes in 90 minutes to 2 hours.
To find the right stylist for you, the AAO recommends you follow these precautions:
Choose an aesthetician who is certified and holds a positive reputation.
Check to ensure the proper safety and hygiene protocols are followed.
Ask about the products and adhesives that are used.
Get Stunning Lashes Today!
You can get flawless lashes with high-quality extensions. Take the time to choose a trusted stylist in your area to give your appearance an upgrade.
About Epic Beauty
Epic Beauty strives to help everyone feel their best. Lizeth has provided lash extensions for over 12 years. She completed specialized training courses and uses top-of-the-line products to meet your expectations while keeping your safety a top priority. If you are ready to invest in your confidence, choose a trusted stylist. Contact our office today to schedule an appointment.
Comments Off

on Are Eyelash Extensions in Tyson's Corner Safe?
No Comments
No comments yet.
RSS feed for comments on this post.
Sorry, the comment form is closed at this time.