September 8, 2018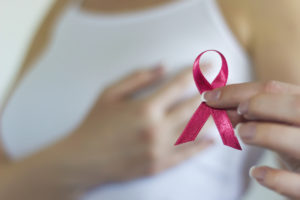 This October, your friends and neighbors are celebrating more than witches and goblins for Halloween. It's also time to honor Breast Cancer Awareness Month! These 31 days are set aside to raise awareness of the prevention, detection, treatment of, and recovery from breast cancer. Keep reading to learn more about all of the above — and don't hesitate to share this information with those you love! Breast Cancer Awareness Month is all about awareness-raising and discussion, and that's what this blog post is for.
Early Detection of Breast Cancer Is Crucial
The earlier breast cancer is caught, the better the odds for successful treatment. For decades, self-examinations at home were recommended for early detection. However, now it is widely held that a mammogram is the most important tool for early detection. The mammogram can detect a lump for up to 2 years before it can be felt with a self-examination or at the doctor's office. Annual screenings are recommended for most women, though women at a higher risk of breast cancer should have a yearly MRI in addition to the annual mammogram.
Who Is At-Risk of Breast Cancer?
The risk factors for breast cancer include the following:
Age: While breast cancer can affect women of all ages, the risk rises dramatically over the age of 50.

Personal/family history of breast cancer: Woman who have had breast cancer in the past or who have a family history of breast cancer are at a much higher risk of developing the disease.

Childbearing/menstruation history: Women who have never had children, who began menstruating before the age of 12, or who went into menopause after the age of 55 are at a higher risk of developing breast cancer.
Regaining Your Confidence after Mastectomy
Estimates say that 1 in 8, or about 12%, of women will develop breast cancer throughout their lives. Sometimes, treatment for breast cancer requires single or double mastectomy, or breast removal. The impact of this invasive procedure can be severe — both mentally and physically. Reconstructive surgery can help to rebuild the volume and natural appearance of the breast, but many women find they are still bothered by the loss of color in the nipple and areola. 3D nipple tattooing and areola rebuilding performed about 6 months after the breast reconstruction can go far in helping to create more proportional breasts. The process is completed in about 2 hours — including a consultation and the procedure. And the result? Amazing. Most women notice their self-confidence wonderfully restored with the help of nipple tattooing and areola rebuilding.
October is Breast Cancer Awareness Month, so join us in spreading the word about this disease — including 3D nipple tattoo for rejuvenating the natural color of the nipple. It's a little-known procedure that can make a world of difference for breast cancer survivors!  
About Us
Lizeth Alvarado is passionate about helping breast cancer survivors restore their confidence with nipple/areola tattoos. If you have recently undergone a breast reconstruction, don't hesitate to find out how you can FULLY love your breasts once again. You are invited to contact Epic Beauty to schedule your consultation today.
Comments Off

on October is Breast Cancer Awareness Month in Tysons Corner
No Comments
No comments yet.
RSS feed for comments on this post.
Sorry, the comment form is closed at this time.